Bearcat Speed 400
The F8F Bearcat was the follow-on to my Hellcat design, and it could hardly have been a bigger success. With it's clean lines and generous stab area, the Bearcat carves through maneuvers just like the original "Jelly Bean". The construction article appeared in the January, 1999 issue of
Model Airplane News
, and to this day it remains one of their most-requested designs.
Plans and construction notes for the Bearcat are available for $15 including shipping, and vacuum-formed canopies are available for $10. You can order by mail or
click here
for fast, convenient on-line ordering.
CNC-cut foam wing cores are available from
FlyingFoam.com
. E-mail them for price and availability.
Scale: 1/14
Span: 30"
Length: 22.25"
Wing Area: 170 SQ IN
Weight RTF: 18 OZ

Here are photos of my Bearcat. This model is built from the stock kit, covered with .56 ounce glass cloth and epoxy and painted with Floquil Military Paints.






Here's a detail from the AutoCAD plans. All formers and templates are shown full-size.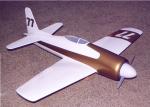 Click for information on the Rare Bear Reno Racer!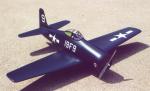 The Bearcat Speed 400 was featured as a construction project in the January, 1999 issue of Model Airplane News. Like its Hellcat stablemate, it's an easy to build warbird of balsa and foam construction. It's designed for a 6V Speed 400 motor on 7 or 8 cells. It can also be powered by a small brushless motor.

Recommended flight hardware:


Brushed Power: 6V Speed 400 motor, Graupner #1328 prop adapter, Graupner 6 X 4 prop, 20 amp BEC speed controller, 8-cell NiMH battery or 2200-2S Lipo pack, micro radio gear.


Brushless Power: 2000Kv 100-watt brushless system, APC 7 X 5E prop, 2200-2S Lipo battery, micro radio gear.



Return to Ryan Aircraft Page